HJSplit for Windows is a freeware file splitter which runs on all 32 bit and 64 bit editions of Windows. HJSplit supports file sizes of over 100 Gigabytes, it can split files, join/recombine files, create MD5 checksums, compare files and "run without install". HJSplit is also fully portable: you can run it directly off a DVD, CD or USB stick.
HJSplit for Windows does not need to be installed nor does it depend on any special DLL's. Just extract the contents of the zip file into a directory of your choice, and start the program by double clicking on hjsplit.exe.
To download
HJSplit 3.0 for Windows
(200 Kb)
, just click on one of the links below:
hjsplit.zip (location 1)
hjsplit.zip (location 2)
hjsplit.zip (location 3)
In this guide, you will learn how to use the extremely easy freeware HJSplit to join your files that WinRar cannot handle, quick and painlessly.
___________________________________________________
Getting Started
To get started, you will need a file that has been split but cannot be joined using
Virtual Dub
and cannot be extracted using
WinRar
. These files
will
have extensions that look like this:
filename.rar.001
with the ".001" number increasing with the amount of files you need joined. For example, if you need to join three files together, you should have a .001, a .002 and .003.
That is all you have to do for now, besides making sure that all your files that need to be joined are in the same directory. If you are not sure about that, then make a new folder on the
Desktop
and throw all the pieces in there.
____________________________________________________
Opening HJSplit for the first time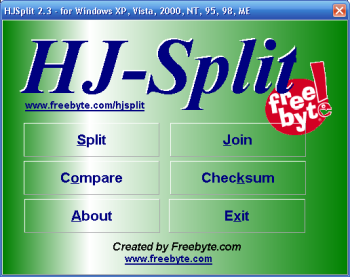 Now that you have downloaded the application you will notice it will need to be extracted. Use WinRar or a similar application to complete that operation.
Once it is extracted, you will also notice that HJSplit does not need to be installed, it runs right from the
.exe.
Open the application and familiarize yourself with the different sections if you like. There is a
Split
section, a
Join
section (which we will be using soon), a
Compare
section, and a
Checksum
section.
__________________________________________________
Joining your files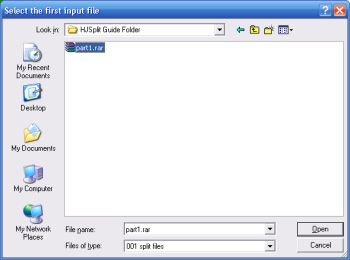 Press on the
Join
button to open up the File Joining window.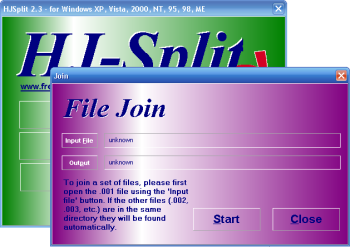 Press on
Input
and navigate to the folder where you placed the pieces. Select the first piece, .001, and then press "Open". As long as you put all the pieces in one folder like I recommended before, HJSplit will automatically find the other parts during joining.
Your window should now look like the picture to the right, with the
Input
and
Output
fields filled out.
____________________________________________________
Finishing up
We are almost done, so lets just finish up.
Press
Start
and watch as the progress bar tells you how far along the joining is. Small files will join almost instantly whereas larger files could take up to a couple of minutes.
When the process is done, HJSplit will tell you.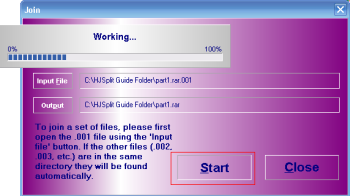 You can navigate to the folder where the joined file is an either extract it or play it, depending on what it is you joined together.
__________________________________________________
QuickPar
For those of you familiar with Usenet, the program
QuickPar
should also be noted. If you have downloaded
PAR2
files, using QuickPar will easily allow you to repair or join the files after the
program searches
for corruptions. If repairs are not necessary then QuickPar will offer to join the files as the first step.
_____________________________________________________
Written by:: Andre "DVDBack23" Yoskowitz